Avant-Garde Home Furnishings, LLC présents
All about the great outdoors..
Today I am sharing with all of you the secrets of the great outdoors.. All you need to know to build a fantastic modern contemporary outdoor space that is sure to be the talk of the town is here in this next post so read on and learn how to create the perfect outdoor space..
Enjoy the pics and post
What ever happen to good old-fashioned picnic tables? For quite a while, they could be seen in every yard, park, etc., but now it seems as though people make more contemporary style choices with their outdoor furniture and have no need for these traditional pieces. Still, can anything really beat the memories a group can make gathered around a picnic table?
Well, The Hopper table pictured above certainly changes ones opinion about picnic tables! This sleek picnic table by Extremis was thoughtfully designed Dirk Wynants who was inspired by communal celebrations. Hoppers, farmers and long days working out in the field often ended with everyone gathering around a long table swapping stories, sharing laughs and indulging in some great homemade food.
The Hopper's benches and tabletop are made from natural Iroko wood while the frame and bolts are powder-coated steel. The integrated sunshade is more than appreciated for areas that receive direct sun all day but of course, this can be closed if you prefer or eliminated altogether!
To find out more information on the unique Extremis creations or to locate a dealer, you can visit their website. Sometimes early inventions just need a little attention to spin them into something new and dynamic.
revamping old wicker
Before you toss that old wicker in the trash or pass up that table set selling for a few dollars at a garage sale based on appearance, you should know that it can look dynamic with minimal effort. Wicker has a long life, sometimes it just needs a little help to be aesthetically-pleasing after a few years.
Secure Weak Pieces – If there are any pieces that are weak, secure them using fiberglass packing tape. Then, apply glue over the nail joints and hold splintering pieces together with tightly wrapped fine stainless steel wire.
Fix Unraveled Pieces – Brush diluted exterior glue over these pieces to soften them and hold them in place with tape until they dry.
Prep – Using an old banister brush, clean away dirt, flaking varnish and old paint. Some parts may even need a bit of attention with fine-grit sandpaper.
Paint – Use a self-priming acrylic to paint the wicker. If the piece is super old and extra dry, use two coats. This will give the wicker more stability and strength.
You can find old wicker anywhere that can be made to look brilliant with a little effort. Whether you use it indoors or outdoors, these are classic pieces that will never go out of style! They're not only perfect for your deck or patio area, they're ideal for entryways, a child's room, reading room, basement or anywhere else you want to add a little color.
Fall is here, and you've no doubt already seen its withering effects on your perennials as they die off for the colder months. Gardens are a lovely addition to any home's landscaping, but it can be a bit disheartening to care for them all spring and summer, only to watch them fade to brown come winter.
Rock gardens can help combat the retreat of your flowerbeds. Always a staple in modern landscaping, rock gardens feature large and small colorful rocks scattered artistically across a front or back yard. Here are the basic steps to create your own rock garden, so you can have a beautiful yard all year round:
Choose the location for your rock garden. If you want to place it in a large, sprawling space, you'll need more rocks and a more natural design concept than if you want only a small rock garden bed amidst other landscaping elements.

Find the rocks that you'll use in the garden. When choosing rocks, consider the color (do you want red sandstone or grey limestone?), size, and shape of your rocks. Large, oddly shaped rocks are often the centerpieces of a rock garden.

Choose the plants that will accent your rocks. Some believe that the plants you choose should only be those that grow naturally amongst rocks, while other go for sprigs of bright color amidst the stones. The choice is yours.

Place, plant and position your rock garden. You'll likely need help from a strong friend or a landscaper when moving the heavy boulders and rocks around your yard, so before you even begin you should have a solid design plan in your head to minimize the amount of lifting.

Enjoy your year-round landscape!
companion outdoor bar table
Pristine patio perfection. The all-American style of outdoor furniture meets a unique modern flair in this Companion Outdoor Bar Table. The table is made of thick lines and uses southern yellow pine as its base. This renewable American wood is stained in your choice of a number of colors, including apple green, white, Caribbean blue, natural and many more. It is then given a distressed finish, which makes it appear authentically weather-worn and well-loved. Your outdoor dining experience will benefit from the stability and the southern country style that this table will bring. The Companion Outdoor Bar Table is available at Spacify.com for $532.00.
resort outdoor sectional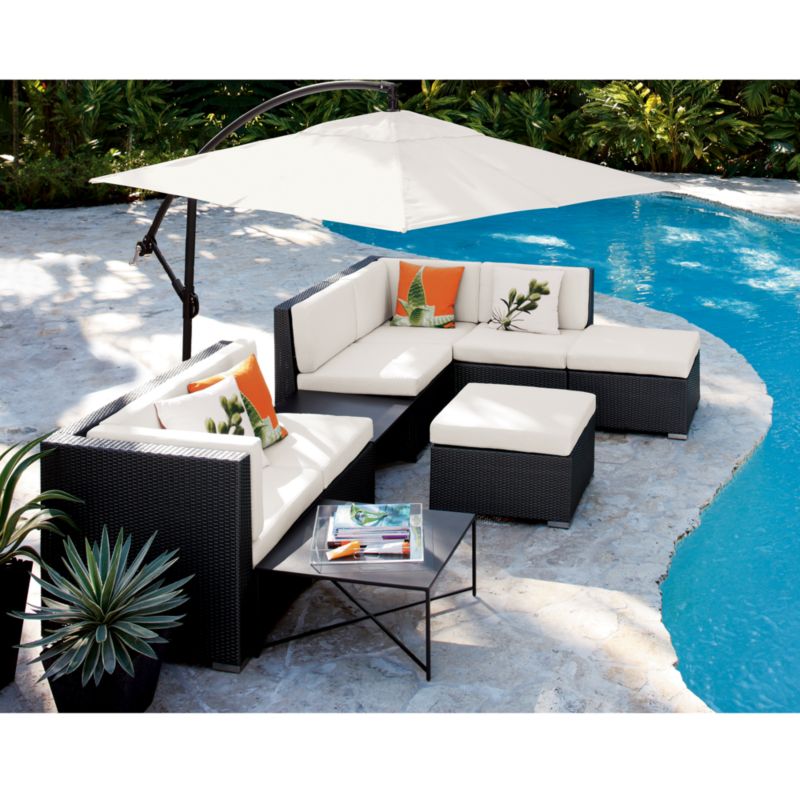 Entertain guests in style with this modular outdoor sectional set. Combine the three styles, corner chair, armless chair and ottoman, into patterns and layouts to reflect your summertime mood. This sectional can be easily rearranged to be long and sleek or intimate and square. And the only sweat you'll break will be because of the summer heat: these durable chairs are lightweight and compact. They go for between $249 and $399 a piece, or $1,346 for a 4-piece set atwww.cb2.com. Get your chill on this summer with this customizable patio set and feel like you're on a resort in your own backyard.
etra chaise lounge and side table
SIMPLISTIC, STYLISH, SLEEK SEATING. The clean lines and subtle shades of this outdoor seating set allows for modern lines, contemporary style, and a clean look in your outdoor spaces. Featuring an adjustable back, there is no skimping on relaxation. These pieces are suitable for by the pool, on a patio, and on a deck these loungers and side tables offer the perfect punch of comfort and elegance. Choose from seven different colors and two different finishes, allowing for versatility and the ability to achieve the exact look you are going after. You can purchase this outdoor furniture set from allmodern.com for $3,598.00.
cabana club modular seating collection
VISITORS WILL SWARM YOUR PAD WHEN OUTDOOR ROOMS ARE OUTFITTED with this Cabana Club Modular Seating Collection. How could contemporary decorators resists the unique style of these pieces when decorating their decks, patios, and outdoor rooms? Luxurious finishes, sleek curves, and glisten bring a resort-like look to designs. Throwing parties will take on new meaning when guests lounge on seating and use surfaces that accommodate both day and evening entertaining. Homeowners who prefer quiet evenings alone will also appreciate the comfort, beauty, and durability of these pieces. The clean lines create stunning environments, while bringing in comfort with plush textures. This collection is available throughFrontGate.com starting at $1,295.00.