How to make an office with very little space...
Today I am sharing how to create an office with very little space in your home and without the need to use an entire room for your special place or small home office..
Enjoy the pics and post...
Whether you want to hide that desk you have in your living room, create a little privacy area or make an office for your kids to study, you can easily do it even if you don't have an extra room available. You don't really need much space or a lot of furniture and supplies. Generally, a small desk, comfortable chair and of course, a gorgeous lamp to spice up the area is about all you need. Small cubicles are so easy to create anywhere in the house that if you have several people in your home, everyone can have their own private getaway to do homework, read, study, pay bills or simply escape!
Closet
The easiest way to create an office is with a walk-in closet. Yes, closet space can be hard to give up but if everyone can move their coats out of the hallway closet then you're all set. Paint the area white or another light color and make sure there's proper lighting. Closets offer a great deal of privacy. There are plenty of small desks available and you can even hang a cork board, calender or whatever else you want on the walls. The best part is, any mess is hidden with the door!
Under the Stairs
Many homes with multiple levels, have a cubbyhole under the stairs that is the perfect private area to turn into an office. Treat it the same way you would a closet and if you want a little extra privacy, buy a nice screen or hang a tension rod and a curtain to make yourself a door.
Corner of the Room
If the other two ideas just aren't an option, section off a corner of a room and create a desk area. You can either make yourself a fabric room divider and hang it kiddie-corner or use two so your office area is square. Alternatively, you can use a room screen here as well. This is really ideal in kids rooms or dorms, especially if two people are sharing a space. A little privacy goes a long way.
Everyone needs their own personal space, a place to put their belongings that they know will be safe and things won't get moved around. Of course, this can often turn into a mess so hiding these areas is always a great idea!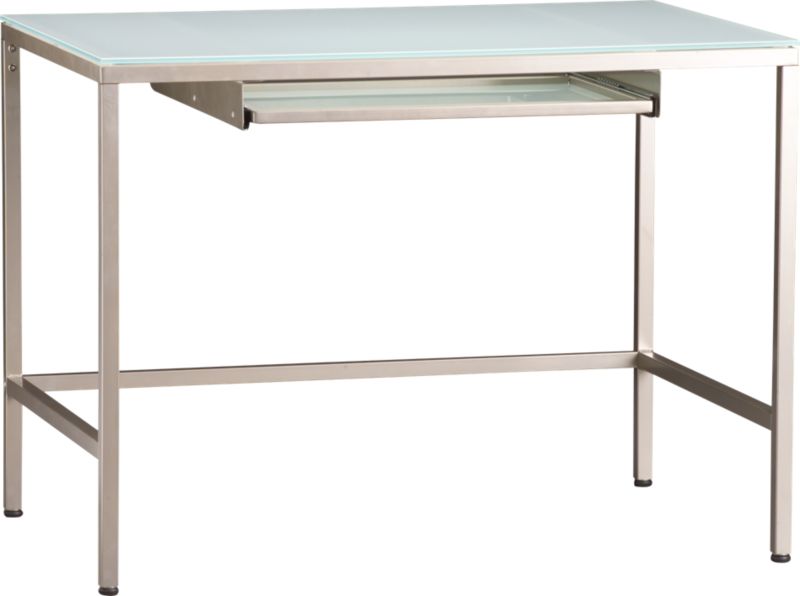 Work becomes smooth. The trig desk does what every desk hopes to do: it makes your work day a little bit sweeter, a little bit smoother. With a glassy finish and a minimalistic perspective, the trig desk allows you to focus on your work with no distractions. It beautifies your office by adding a touch of icy calm which will be reflected in your work. Constructed from glass and titanium finished steel, there is no other desk that is more delicate yet sturdy. The tempered glass surface sits atop a white backdrop that will purify both your office and your mind. You can purchase the trig desk at CB2.com for $149.00.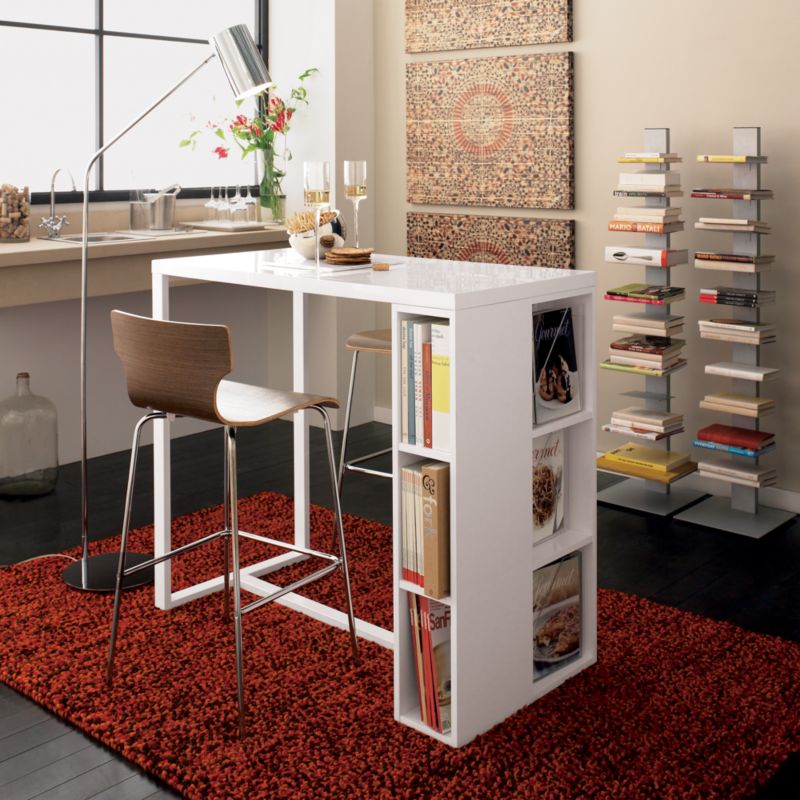 The height of dining fashion. Judging by its thin frame, you might be a little incredulous at the thought that this sidecar high dining table is versatile enough to act as a dining place for two, a desk, a buffet, storage or a cocktail bar. Take a closer look, and you'll see the style and functionality of this table ensure that it is all these things, and more. It is a modern piece of furniture that promises plenty of leg room, storage for wine, cutlery or office papers, and a white hot style that will catch the wandering eye whether it is up against a wall or freestanding as an island. You can purchase the sidecar high dining table at CB2.com for $399.00.

Make your desktop an industrial landscape. The hard lines, smooth surfaces and aluminum material that compose these Aluminum Letter Trays are what makes them so stunning. They will give any desk a sense of no-nonsense business. Each set of two comes with four connectors to stack the trays directly on top of one another or to set the top tray back slightly so that the lower tray is more easily accessed. The bottom of the trays have an ASF non-slip textured substance to ensure they stay firmly in place. Your letters and important documents will never get lost in the shuffle again. The Aluminum Letter Tray from Design Within Reach is available for $120.00 per set of two.
The oval office desk. The Sasha Desk is contemporary and functional, designed with a mixture of youthfulness and sophistication. It features a leather writing surface that offers padded, but stiff, support for your work. The front drawer is adorned with a chrome and leather handle, and opens out to a storage space for pens, pencils, paper and any other writing utensils you'd need. The desk is constructed from dark brown vinyl and is finished with a rich java coating. The tapered legs and lower, half-moon shelf combine to give this desk some personality and round out the piece. You'll find theSasha Desk by Sitcom Furniture at nikkoSHOPS.com for $699.00.
Don't let your work tie you down. If ever there was a way to rise above all of the papers, clutter, and other office mess that pervades your workspace, this floating Lax Wall Mounted Desk is the perfect beginning. It uses light, natural materials to create an open, flexible look. The walnut wood and white powdered aluminum doors are complimentary to the floating appearance of the desk itself. The added upper cabinet will only increase the image of a floating, carefree workspace. This desk can be used as a display shelf for living room accessories and media as well. The Lax Wall Mounted Desk is available at Spacify.com for $720.00.
A small desk that is very modern....
Simple and fresh, the home office just became stylish. Herman Miller introduces this Sense Desk as part of his LifeWork furniture set for the home. It is designed to be the workstation that you feel comfortable enough to send out personal emails from, yet professional enough to pay your bills and do assignments for your boss. The layout is ergonomically sophisticated, and its technical, thin lines are adjustable for anyone's height (including children). The desktop cabinet uses horizontal space and drawn out lines to store your papers and media. This desk is available with a white laminate top or a walnut veneer top to meet your visual needs. The price of this desk starts at $949.00 and goes up with different additions. You can find the Sense Desk along with the other LifeWork furniture at HiveModern.com
There you go ideas on how to turn any empty corner into your home office..